I've found that one of the worst "features" of Microsoft Office X 2004 is the project gallery that launches every time I launch an Office application. For example–when I launch Powerpoint, I get this: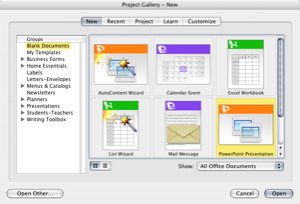 If I just launched Powerpoint–not Excel or Entourage, why in the world am I presented with the option to write an email or start a spreadsheet? I mean… really, at least start by showing me recent documents or do like most other programs and just give me a new, blank document.
I'm sure there's a preference to turn this off, but whose ideas was this anyway?
http://marcusvorwaller.com/blog/images/logo2.png
0
0
Marcus
http://marcusvorwaller.com/blog/images/logo2.png
Marcus
2005-03-17 19:47:24
2005-03-17 19:49:38
Microsoft Office X Project Gallery