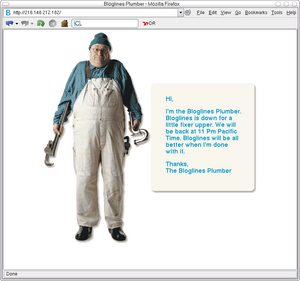 Bloglines is down. That means instead of reading blogs, I'm writing one. A few interesting things I"ve been thinking about and coming across.
Ximian is releasing their Outlook Exchange connector for Evolution as open source. Hopefully it gets ported to OSX soon. At work I use Microsoft Entourage to check my Exchange email but for some reason it won't allow me to send mail. For that I have to log into remote desktop and do it through Windows 2000. It's a pain.
Modest Mouse is coming on Letterman in a couple hours. Jenny is waiting up to see them. She's a fan since they were small time in Seattle… I've been a fan of Modest Mouse since 1999. It's kind of cool to see them getting big. If you're interested in them, check out this video. Their website is always interesting as well.
Rumors of new Apple Macintosh G5's are hot.. I, however am looking at the great deals on refurbished Dual 2ghz's. $2,399 is pretty tempting.